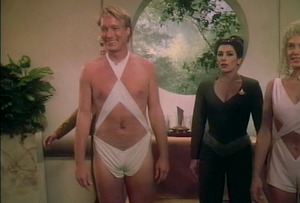 A term derived from "Moose Knuckle", a charming euphemism for a man's visible groin bulge and the awkward sag from lower garments being hiked up a bit too far. Adam and Ben have been keeping a close eye on the many times characters, both minor and main, have been rockin' their knucks without shame.
A brief controversy arose concerning this term with one of the show's viewers who chastised Adam and Ben for use of this term in reference to men, and not women, as the viewer assumed. Ben quickly dispatched the evidence and the viewer eventually was forced to apologize for being wrong. So, so wrong.
Ad blocker interference detected!
Wikia is a free-to-use site that makes money from advertising. We have a modified experience for viewers using ad blockers

Wikia is not accessible if you've made further modifications. Remove the custom ad blocker rule(s) and the page will load as expected.