Also called a "Space Butthole". Generally refers to any sort of spatial anomaly, but usually used in reference to temporal anomalies or wormholes.
Although not explicitly mentioned, it's assumed that the Bajoran Wormhole would therefore be referred to as the "Bajoran Butthole" by members of the Federation. This of course would create numerous inferences and euphemisms that would be inappropriate to publish, but that the viewer is encouraged to imagine.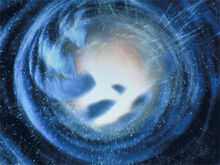 Ad blocker interference detected!
Wikia is a free-to-use site that makes money from advertising. We have a modified experience for viewers using ad blockers

Wikia is not accessible if you've made further modifications. Remove the custom ad blocker rule(s) and the page will load as expected.